Shelley spent her early childhood living in the Colorado Rocky Mountains as a hippy child in the 70's running free exploring nature, rocks, streams, and flowers. Her dad was always experimenting with different nature art such as turning rocks into jewelry, panning for gold and turning it into "mining art," and creating intricate wood burning designs. Her mom was always busy knitting, doing needle work or creating crafts with Shelley and her younger brother Scott. Her mom shared a love of fairy tales, mythical creatures, goddess energy, and astrology – all areas of interest for Shelley that would later emerge as influences in her art.

"It was a magical time for me. I spent hours analyzing and admiring the inside of giant poppies and was mesmerized by the black innards spreading out to the orange petals."

Shelley had a favorite place in the woods by her home, near a giant slab of granite. She would spend hours picking mica off that rock holding layers up to the sun to admire the reflection. Shelley's parents moved to their home state, Minnesota, when she was twelve and soon after divorced. She didn't think much about art for art's sake for many years, feeling she didn't have much talent after getting little support for her artistic interests in junior high and high school.
She chose to attend Gustavus Adolphus College in St. Peter, Minnesota for college taking classes that explored mythology, religion, and art history while pursuing a degree that would help her "get a job." She graduated with a Bachelor of Arts degree in Speech Communications and a minor in Art History.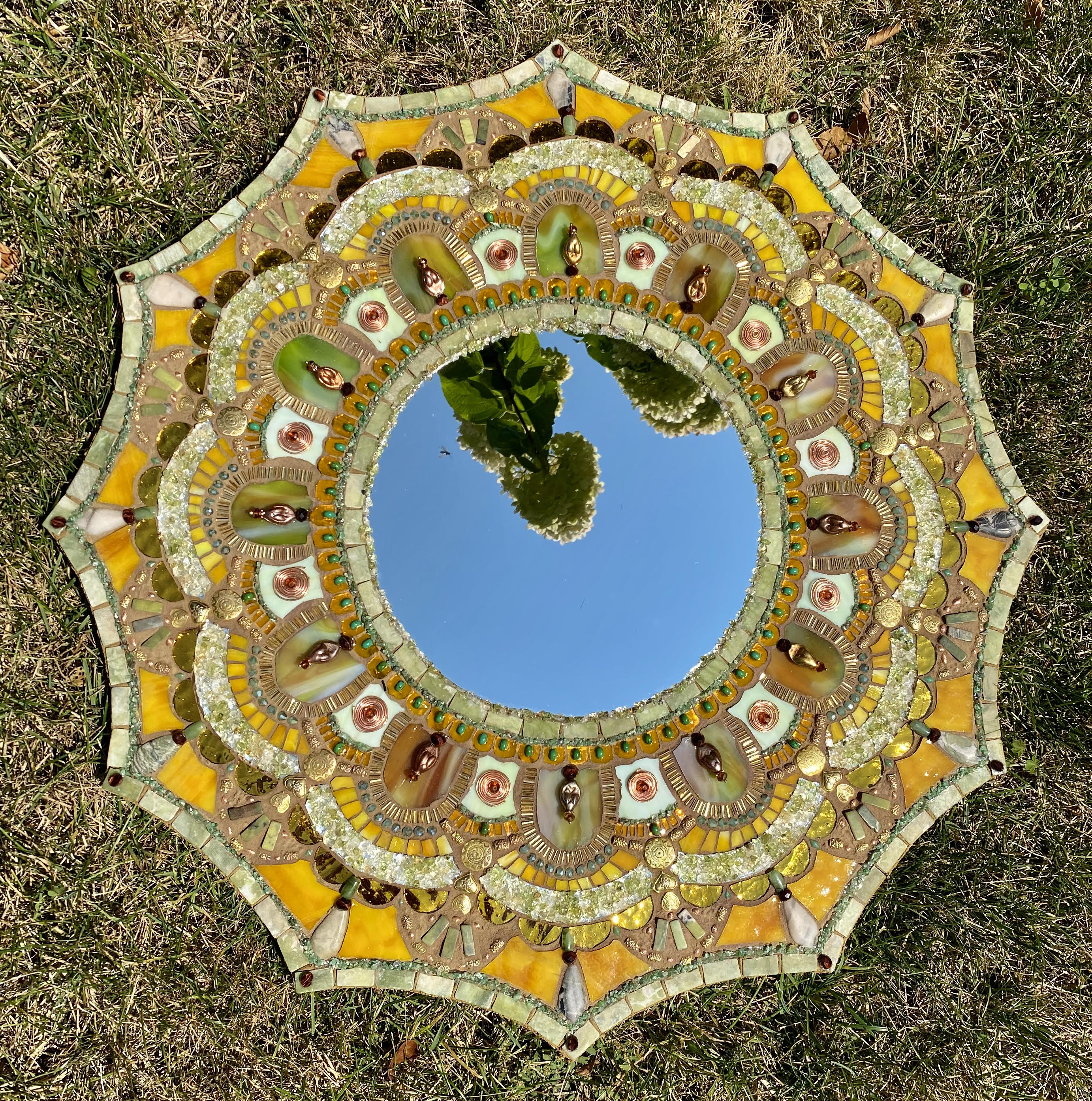 "My Authentic Self" - 22" x 22
3rd place in glass category 2021 Arts North International Juried Show, Hopkins, MN

Shelley went into the administrative assistant field and moved to Atlanta, Georgia in the 90's hoping to get a job with the 1996 Olympic committee. She instead found work with The Coca-Cola Company where she met her British husband, Peter. Charmed by his accent and sense of humor, she married Peter and joined him in Europe as an ex-pat, living in Vienna, Austria and then in Munich, Germany. She didn't speak German but was determined to learn enough so she could more fully enjoy the culture. She took private German lessons, joined the American Women's Association, and set out to travel and visit museums to see the art she studied in college.

Shelley traveled to twenty countries and took up photography and scrapbooking to create photo journals of her adventures. During this time Shelley also made a close friend, Grace, who became a lifelong traveling companion. In 2007 they went to Ravenna, Italy, a city known for colorful mosaics adorning many of the Roman and Byzantine buildings. They spent a week learning traditional mosaic artisan skills using the hammer and hardie to break up glass smalti and marble. It was a mind-blowing week of textures, colors, smells, foods, and pure joy. Shelley noted that she was tempted to change her scrapbooking hobby to invest in mosaics, but the timing wasn't right. She thoroughly enjoyed the artform and this experience would be a turning point with Shelley and her art—she just didn't know it then.

Shelley and Peter had two children, Karly and Pierce, while living in Europe before moving to Chicago in 2008. This was the same year that her father passed. She had only seen her dad a handful of times after her parents divorced when she was twelve, making her return to the U.S. bittersweet. The family settled permanently in Minnesota in 2012. One afternoon in 2015, Shelley was sitting in her creative space looking out over a lake and thinking about her dad, her career (which she started up again when state-side), and whether or not she still wanted to be in the Corporate world. She had been spotting a moss-green Kia Soul mini- wagon for several months every time she left the house, no exceptions. Her dad had a warped sense of humor and she was thinking that he was trying to communicate with her through the constant spotting of that car. "For some reason, every time I would see this car, I could hear my dad laughing." She was thinking about that and also musing over the fact that she had been seeing hummingbirds everywhere.

Later that year she went with Grace to a mosaic retreat in Haiti and met her soon to be mentor, Laurel True. Shelley learned how to mosaic with tile, a completely different technique of mosaicking, while on this trip. She enjoyed Laurel so much, she followed her to Mexico for another week of creative exploration, this time working with glass and mirror. It was during this trip in Mexico that Laurel pointed out "you like working with small things, don't you?"

"Why yes, yes, I do like small, pretty, sparking things!" Shelley had an "ah ha!" moment during this trip and saw that mosaicking combined her love of crafting and her scrapbooking, but on an entirely new and sparkly level. She decided after Mexico to switch her focus to mosaic art. She sold all of her crafting supplies and invested in glass and tools and turned to making mosaics.

She left the corporate world of being an executive assistant in 2016 to focus more fully on building her art business and has continued to improve her skills learning from mosaic artists such as Julia Johanansen, Kelley Knickerbocker, Sharra Frank, and John Sollinger.

Still a bit unsure of her talent, Shelley had a really cosmic and pivotal experience in Sedona, Arizona where she and Grace were on one of their creative adventures. They planned to attend a mosaic class with Kelley Knickerbocker and explore the mineral and gem show in Tucson, Arizona.
They were laughing about how the green Kia Soul had been stalking Shelley and as they were driving to Sedona, they spotted the same color and model car being driven by two women driving in the same direction. The next day they were in a rock and crystal shop enjoying metaphysical fun by having their aura photos taken while sharing with the two women working that they were mosaic artists and were going to drive to Tucson the next day.

They got into a conversation about their art and the topic of hummingbirds came up. Shelley showed a picture of a mirror frame she had made that had a beautifully beaded hummingbird on it. Shelley had named it "Dad's Amend" and explained it was a piece she created to forgive her dad for being absent from so many years of her life.

The woman she was showing it to went white in the face and asked "how much?" Shelley told her the price and Shelley's first major sale was consummated. She further learned the person she was talking to had a dad who also referred to her as a hummingbird and the forgiveness that was woven into this mirror resonated with her own life.
Shelley and her friend went to lunch, celebrated the sale, and were about to leave town when Shelley exclaimed; "I bet they were in that Kia yesterday!"

Having to know for sure, they went back to the shop and sure enough, the new owner of Shelley's mirror HAD BEEN IN THE GREEN KIA SOUL! That car had led Shelley to her first major sale. This loud and clear message from her dad confirmed to Shelley she was supposed to create art, and in particular, art with healing properties.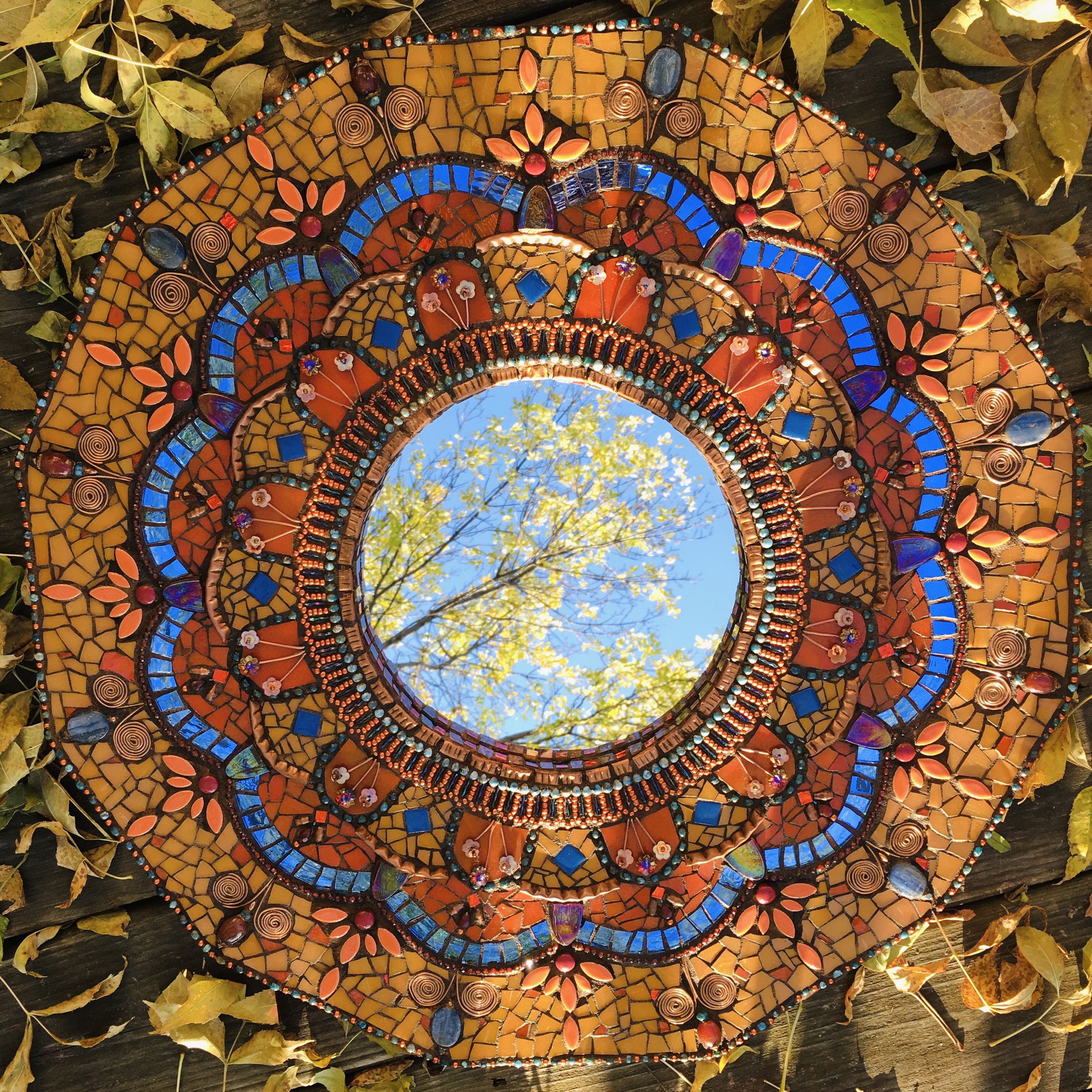 I am Radiant, Beautiful, and Strong 22" x 22"

Shelley has since embarked on a journey to explore how she can create art with energy fields that interact with the energy field of her clients. Shelley is honoring her childhood interests and is studying metaphysical sciences, astrology, and shamanism practices to explore how different energies and intent can come together to interact and play.

Shelley also likes to work with the energies and colors associated with the Chakra system; a network of individual energy centers located throughout the body. She utilizes mirror in particular, both as an obvious reflective quality, but also in hidden, more subtle ways to create depth of light and reflection underneath glass and gemstones. She feels this technique helps draw the person into themselves while engaging with her art.

The use of color and her favorite materials, glass, mirror, metals, and gemstones, combine to create meaningful, beautiful, and healing art to share. "I so enjoy creating art that is fanciful, sparkly, and has hidden layers of meanings." Shelley's works are indeed fanciful in design and deliberate in composition. She favors a complimentary or related color composition. The hues, design, and materials for each piece are infused with metaphysical intent creating layers of meaning to explore. She is partial to creating sunflowers, dragons, magic doors, and mirrors that have affirmation infused into them.

Many skills are required to create a mosaic piece and one of those is constructing the base, or substrate, of her pieces. Shelley creates all of her bases herself, rarely using precut forms. "I approach my art in layers. First the base that includes the hanging elements, then the glass, then the embellishments, and finally the polishing and cleaning. I am always amazed at how much time is used for the non- sexy part of creating a piece." She does admit to experiencing a certain amount of glee when using her jigsaw to cut shapes. While creating, Shelley's initial designs tend to grow organically as she finds that the materials talk to her. She listens, honoring the creative process, and experiences great delight in the finished product.
________________________________________________________-

MEMBER:
Minnesota Mosaic Guild
Society of American Mosaic Artists (SAMA)
Eagan Art Works
Ceramics and Mosaics Association (CMA2)
NEMAA: Northeast Minneapolis Artist Associatio


Hummer 9.25" x 26.25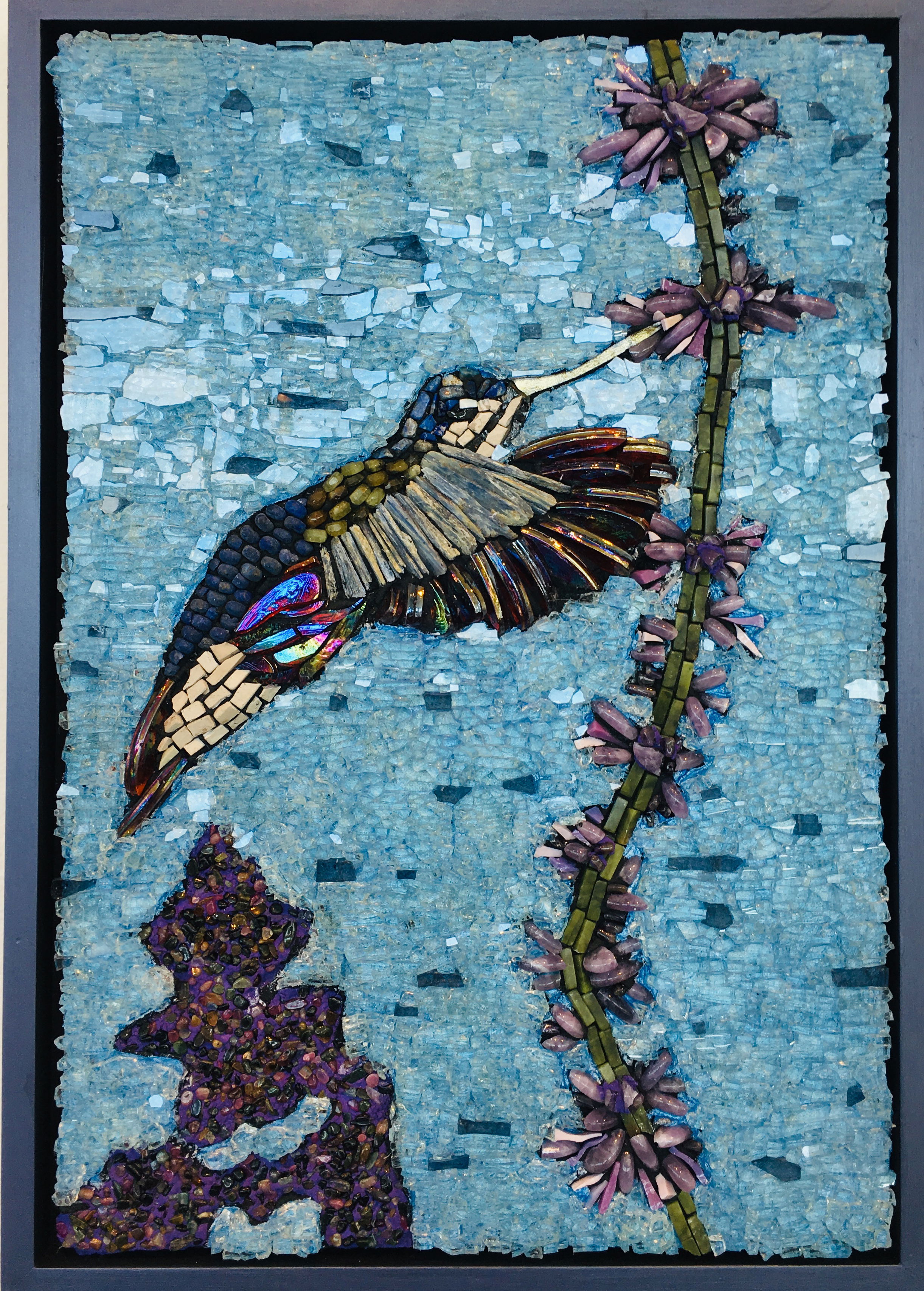 Hummer 9.25" x 26.25